Distillation Column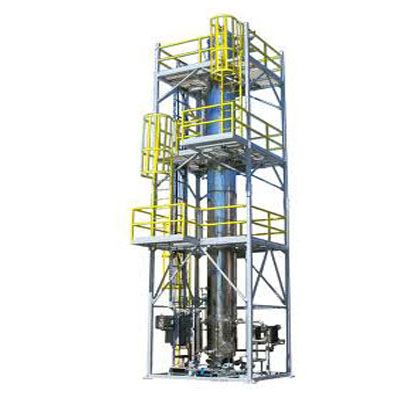 Rufouz Hitek Engineers have generalized its deep knowledge and experience of their in-house professional engineers and offers a premise of building an excellent class of Distillation Column design that are utilized worldwide. Our made distillation columns have various unique features as compared to conventional types of columns. We bring various types of distillation column system in the market. There are various reasons that affects the function of the column like conditions of feed, its components, internal fluid and its flow conditions. Distillation columns are used in small scale laboratories as well as in big manufacturing types of industries. Our designs are entirely based on the needs of our client. Our offer distillation columns can be up to the diameter of 8.0 m. There are some tests which always been carried out to increase the efficiency of these types of columns so that our customer always get best services form us.
Characteristics Of Distillation Column :
High vacuum
Good air pressure
Automation system
Low capital expenditure
Quality output
High productivity
Low energy consumption
High separation efficiency
Applications Of Distillation Column :
Azeotropic Distillation
Extractive Distillation
Batch Distillation
Continuous Distillation
Laboratory Distillation
Reactive Distillation
Vacuum Distillation
Network Area:
Our manufactured products are made up of finest quality of raw materials due to which it ensures durability in the product nature. There are mainly three factors in our designed products which are the main keys of our success and these are quality designs, competitive price and timely delivery.
We Have Cover Following Markets:
USA: Florida, Montana, New Jersey, Texas, South Dakota, New Mexico, Alaska Nevada, etc.
Middle East: Syria, Jordan, Kuwait, Israel, Oman, Saudi Arabia, Yemen, Egypt, Cyprus etc.
Europe: Poland, Austria, Monaco, Finland, Sweden, Croatia, Andorra, Malta, Italy, Albania, etc.
Others: Maldives, Myanmar, Nepal, Bangladesh, Bhutan, Pakistan, China, etc.
Indian Areas: Assam, Himachal Pradesh, Gujarat, Delhi, Mumbai, Orissa, Karnataka, Madhya Pradesh, Rajasthan, Punjab, West Bengal, Haryana, Bihar, Andhra Pradesh, etc.