Evaporator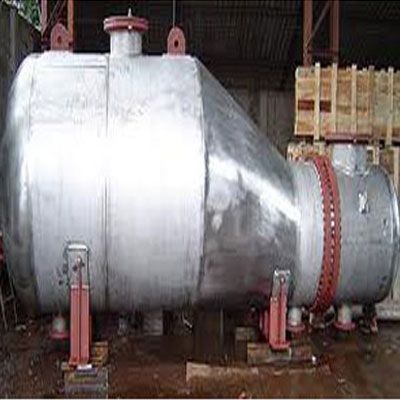 Evaporator is used for converting the liquid form of a chemical into its gaseous form. This technique of evaporator is utilized in making the concentration of food and chemicals. Evaporators are mainly used in food and beverage industries as in these products certain amount of uniformity in evaporating is needed. If there will be regular removal of moisture in the apparatus through vaporization in that case amount of wastage can be easily controlled. The main thing that separate this method from other means of evaporation is only the final concentrated product which is extorted at the end of the procedure. There are many types of evaporator system that usually used in our day to day lives likes natural circulation evaporator, multi-effect evaporators, falling film evaporator, etc. A good amount of heat is needed in the system to separate the molecules of the solvent which later moved to air nearby the solution. During designing an equipment this thing must be concerned that there should be a balance in the amount of energy that will lose during the process near the surroundings. Rufouz Hitek Engineers are the peak most evaporator manufacturers and offer more effective and uncomplicated approach to meet your all types of requirements. Our prepared evaporator design is able to handle a broad range of industrial procedures related to the evaporating.
Our Exclusive Evaporator Ensures:
Low Setup Cost
Energy Proficient
Compacted Designs
High Quality
Enough Output
High Capacity
Network Area:
Our manufactured products are made up of finest quality of raw materials due to which it ensures durability in the product nature. There are mainly three factors in our designed products which are the main keys of our success and these are quality designs, competitive price and timely delivery.
We Have Cover Following Markets:
USA: Florida, Montana, New Jersey, Texas, South Dakota, New Mexico, Alaska Nevada, etc.
Middle East: Syria, Jordan, Kuwait, Israel, Oman, Saudi Arabia, Yemen, Egypt, Cyprus etc.
Europe: Poland, Austria, Monaco, Finland, Sweden, Croatia, Andorra, Malta, Italy, Albania, etc.
Others: Maldives, Myanmar, Nepal, Bangladesh, Bhutan, Pakistan, China, etc.
Indian Areas: Assam, Himachal Pradesh, Gujarat, Delhi, Mumbai, Orissa, Karnataka, Madhya Pradesh, Rajasthan, Punjab, West Bengal, Haryana, Bihar, Andhra Pradesh, etc.