Static Mixer Reactor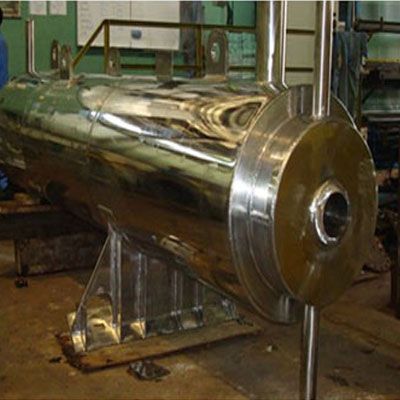 At Rufouz Hitek Engineers we produce excellent quality of Static Mixer Reactor constituted of quality raw grade materials. They are widely utilized in all types of reactions whether it is explosive or exothermic. They also ensure best performance as compared to the conventional way. Even in the case where a constant heat transfer is needed, they are utilized. We have in-house expert professionals who understand the overall requirements of our valuable clients. The structure of the equipment is designed in a way to make radial mixing feasible. It is also efficient in fulfilling the all requirements allied to the processes of mixing of viscous fluids. They are extremely used in the industries because of their distinct characteristics like static mixing, heat transfer and reaction engineering. Quality is our topmost concern and because of only this we are considered as the dominant manufacturing industry in the overall marketplace. We deliver all sizes and range of continuous rectors to our respective clients so that they stay satisfied through our service.
There Is Some Assumption Like:
Controlled environment
Plug flow
Constant density
Single reaction
Main Characteristics Of Static Mixer Reactor
Constant distribution
Short residence time
Innovative technique
Superior design quality
Network Area:
Our manufactured products are made up of finest quality of raw materials due to which it ensures durability in the product nature. There are mainly three factors in our designed products which are the main keys of our success and these are quality designs, competitive price and timely delivery.
We Have Cover Following Markets:
USA: Florida, Montana, New Jersey, Texas, South Dakota, New Mexico, Alaska Nevada, etc.
Middle East: Syria, Jordan, Kuwait, Israel, Oman, Saudi Arabia, Yemen, Egypt, Cyprus etc.
Europe: Poland, Austria, Monaco, Finland, Sweden, Croatia, Andorra, Malta, Italy, Albania, etc.
Others: Maldives, Myanmar, Nepal, Bangladesh, Bhutan, Pakistan, China, etc.
Indian Areas: Assam, Himachal Pradesh, Gujarat, Delhi, Mumbai, Orissa, Karnataka, Madhya Pradesh, Rajasthan, Punjab, West Bengal, Haryana, Bihar, Andhra Pradesh, etc.