Evaporators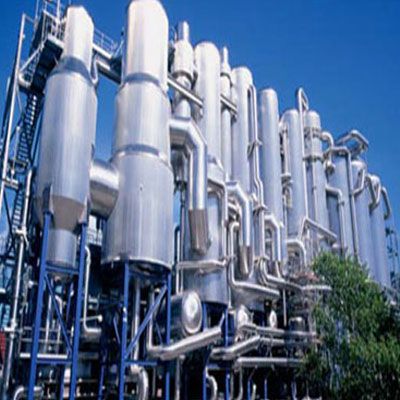 Rufouz Hitek Engineers Pvt. Ltd. are the most renowned face in the manufacturing industries of Evaporators. Our made evaporators are broadly used in herbal extraction process. Our evaporators consume very low energy and equally are capable of producing much more efficient results. They are the device which can convert the liquid form of any chemical into the gaseous form. It is the most simplest and useful technique which is used in most of the reputed industries.

Water can also be detached from the product through other methods like precipitation, liquid-liquid extraction, etc. But in the context of the evaporator, the final product comes in a liquid form instead of solid. This makes it different from all other drying methods which slouch into the same type of category. We offer such equipments which are easy to handle and works on a very simple but effective principle. In the perspective of concentrated non volatile products, water vapor is used as supplementary part.

In the evaporator heat is the main element, on which whole process is based on and the whole procedure is carried out at very high temperature but at a low pressure. Our in-house engineers take care of the quantity of steam which will be needed for the removal of every mass unit of water, when concentration will rise in the apparatus.
Applications Of Evaporators:
Dairy products
Drinking water
Juices
Spent wash
Foodstuffs
Herbal extract
Enzymes, etc.
Characteristics Of Evaporators:
Compact design
Quality output
Automatic control
Easy handling
Low investment
Energy efficient
Network Area:
Our manufactured products are made up of finest quality of raw materials due to which it ensures durability in the product nature. There are mainly three factors in our designed products which are the main keys of our success and these are quality designs, competitive price and timely delivery.
We Have Cover Following Markets:
USA: Florida, Montana, New Jersey, Texas, South Dakota, New Mexico, Alaska Nevada, etc.
Middle East: Syria, Jordan, Kuwait, Israel, Oman, Saudi Arabia, Yemen, Egypt, Cyprus etc.
Europe: Poland, Austria, Monaco, Finland, Sweden, Croatia, Andorra, Malta, Italy, Albania, etc.
Others: Maldives, Myanmar, Nepal, Bangladesh, Bhutan, Pakistan, China, etc.
Indian Areas: Assam, Himachal Pradesh, Gujarat, Delhi, Mumbai, Orissa, Karnataka, Madhya Pradesh, Rajasthan, Punjab, West Bengal, Haryana, Bihar, Andhra Pradesh, etc.