Lube Oil /Used Oil Re-refining Technology
Used Oil Rerefining Technology
Re-refining is a profitable opportunity since lube oil can be re-refined as many times as you like, therefore becoming a very attractive business opportunity while safeguarding the environment.

Among the available today processes, Hitek Re-Refining Process offers a low energy high yield operation, high quality products and absence of noxious wastes or byproducts. A typical re-refining process is consisting of the following steps.

Pretreatment & Dehydration
In this process used oil is partly vaporized at atmospheric pressure to remove water, gasoline, light contaminants like solvents, glycols, organic. Water and light components are condensed and recovered. To produce lubricating oils having the required specification for initial volatility. To remove unstable additives and degradation products by hot processing, thus preventing their penetration into the lube oil distillate. Waste lube oil from storage is pumped by the feed pump through the feed filters, then preheated by hot oil and mixed with chemical additive for pre-treatment. The mixture is sent to the flash drum, where light hydrocarbons and water are eliminated by flash. Vapor from flash drum overhead contains mainly water and gasoline and is routed to the off gas system and used as fuel gas for the hot oil heater.
Gas Oil Removal/Diesel stripping
Gasoil is removed from the waste lube oil in the gasoil stripper. This is for the correction of oil flash point and recovery of gasoil fraction. Gasoil is obtained as overhead and then sent to storage. Part of the gasoil is returned to the stripper as reflux. Stripped oil from the bottom is sent to the vacuum distillation section.
Lube oil from gas oil stripper is sent to vacuum distillation to recover base oil fraction from "heavier than "contaminants. Vacuum distillation is carried out under high vacuum conditions, high temperature and by distillation column. To recover lube oil from heavy residue and separate lube oil cuts. In order to obtain maximum lube oil recovery, distillation temperature is extremely high and pressure is maintained at very low value.
The final step of the process, which improves base oil quality, is the Finishing. Lube extraction is carried out to remove poly aromatic hydrocarbons from the feed stocks to improve Viscosity Index, Color, Oxidation Stability through the action of NMP solvent. Oil and extract stripping, to allow recovery of the last fractions of NMP from both the oils and extract. Solvent Purification by Flash and Dehydration of solvent through distillation.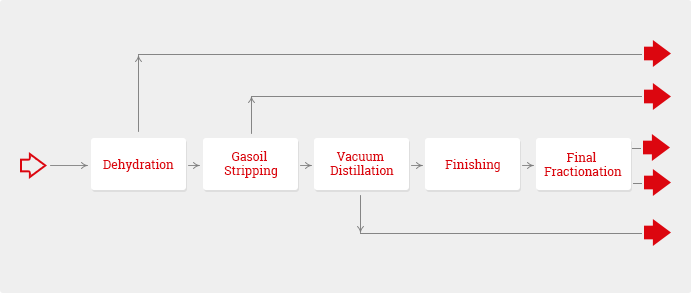 Advantages Of Hitek Re-Refining Process
High flexibility towards feed stock quality and composition.
High process yield.
The lube oil recovery is more than 95%.
High separation selectivity, removal of contaminants and production of high quality base oils
Low energy and low utility consumption.
High on stream efficiency without corrosion, fouling, coking.
Environment safe guarding operation.
Management of all odorous compound s to eliminate malodorous and toxic emissions.
Capital investment and operating cost highly competitive.