Inline Mixer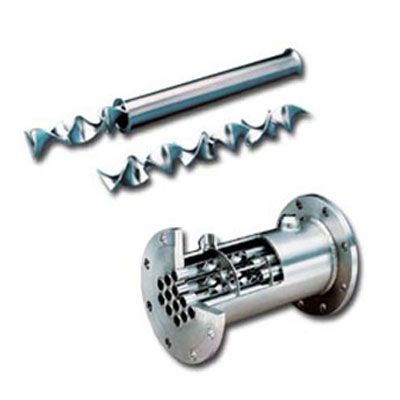 Inline Mixer manufactured by Rufouz Hitek Engineers serve in all major industries related to the engineering fields. They are extensively used to smooth the progress of heat as well as mass transfer. The technique of gashing and reunification helps this device to becoming a great mixing equipment. They are able to ensure complete interruption free process. In such mixer fluids flow rapidly either from clockwise or anticlockwise direction to give consistency in product quality. All the internal parts are well attached so that internal pressure remains constant. We made such types of internal parts that aids in ideal mixing and increase the quality of the product by adding realistic results. According to the different needs of various clients, they come in a wide range, so try to choose that design which suits best to you. Inline mixers are applied in various applications to get the desired output. They are highly preferred for facilitating the process of reaction engineering, heat transfer and mass transfer. We offer the variety of ranges to meet different purposes with their own unique flow patterns. Along with this Rufouz Hitek Engineers Pvt. Ltd. also offer Static Inline Mixer designs to our clients. Degree of mixing required, ability to be cleaned, appropriateness of scale-up, pressure fall, shear rate, residence time allotment, heat transmission and hold-up volume are some essential factors that actually decided the efficiency of the inline mixers.
Inline Mixer Have Some Salient Features Like:
Abolish agglomerates
Simple maintenance
Lower power consumption
No-bypassing
Low shear strength
Very low investment
Organized mixing quality
Less space requirement
Low pressure drop
Self cleaning
Network Area:
Our manufactured products are made up of finest quality of raw materials due to which it ensures durability in the product nature. There are mainly three factors in our designed products which are the main keys of our success and these are quality designs, competitive price and timely delivery.
We Have Cover Following Markets:
USA: Florida, Montana, New Jersey, Texas, South Dakota, New Mexico, Alaska Nevada, etc.
Middle East: Syria, Jordan, Kuwait, Israel, Oman, Saudi Arabia, Yemen, Egypt, Cyprus etc.
Europe: Poland, Austria, Monaco, Finland, Sweden, Croatia, Andorra, Malta, Italy, Albania, etc.
Others: Maldives, Myanmar, Nepal, Bangladesh, Bhutan, Pakistan, China, etc.
Indian Areas: Assam, Himachal Pradesh, Gujarat, Delhi, Mumbai, Orissa, Karnataka, Madhya Pradesh, Rajasthan, Punjab, West Bengal, Haryana, Bihar, Andhra Pradesh, etc.