Thermosyphon Evaporator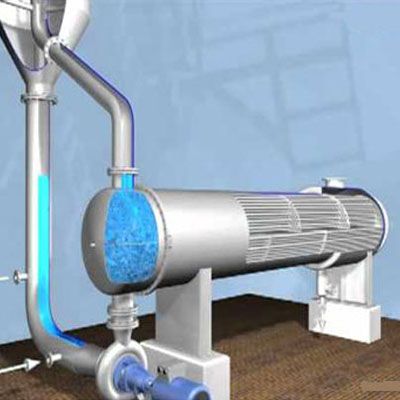 In the case of diluted feed streams, they are considered to be as the best evaporator. We manufacture excellent range of such kinds of equipment which can be utilized in all major industrial applications. We are reckoned in the market as the quality class manufacturer of thermosyphonEvaporators. Beside India, we have also an established business in the abroad. We supply our products in all major markets of the world. In this equipment the source of heat is heating media that is placed on the shell side. The feed enters into the system through the bottom head than through the help of tubes, it moves to the upward position. We serve best in the entire market place through the diverse Variety in our product range. Form small lab to the big manufacturing industries, they are utilized to serve in their related applications. The whole construction of our designed equipment is very simple but in terms of performance, its output is entirely matchless.RufouzHitek Engineers are also said to be as the major exporter of thermosyphon evaporator in the industry.
Features Of Thermosyphon Evaporator
Best for concentration applications
Ensure constant operation
Work well with heat sensitive materials
Economic process
Applications Of Thermosyphon Evaporator
Concentration of fruit juices
Solvent recovery from the contaminated solution
Concentration of dilute solution
Herbal extracts
Network Area:
Our manufactured products are made up of finest quality of raw materials due to which it ensures durability in the product nature. There are mainly three factors in our designed products which are the main keys of our success and these are quality designs, competitive price and timely delivery.
We Have Cover Following Markets:
USA: Florida, Montana, New Jersey, Texas, South Dakota, New Mexico, Alaska Nevada, etc.
Middle East: Syria, Jordan, Kuwait, Israel, Oman, Saudi Arabia, Yemen, Egypt, Cyprus etc.
Europe: Poland, Austria, Monaco, Finland, Sweden, Croatia, Andorra, Malta, Italy, Albania, etc.
Others: Maldives, Myanmar, Nepal, Bangladesh, Bhutan, Pakistan, China, etc.
Indian Areas: Assam, Himachal Pradesh, Gujarat, Delhi, Mumbai, Orissa, Karnataka, Madhya Pradesh, Rajasthan, Punjab, West Bengal, Haryana, Bihar, Andhra Pradesh, etc.