Scrubber Column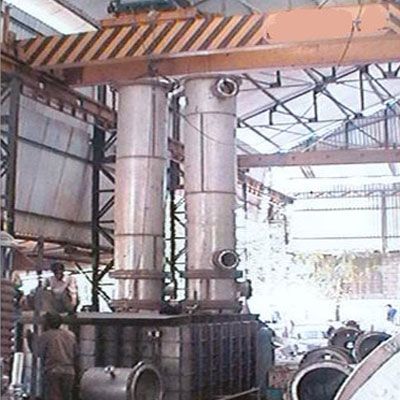 Rufouz Hitek Engineers are known for manufacturing quality cases of Scrubber Columns. During the waste burning process , many pollutants are set free through the help of flue gas. Therefore it becomes necessary to clean the air before discharging it into the air. And this is done through drenching the solution of lime water in the washing column. For continuous cleaning practice, a constant level is needed inside the flue gas scrubber. They are well utilized for major types of applications. We build and supply such scrubber columns which are fitted with best internal parts and on the other hand equipped with all advanced components.
Their Effectiveness Can Ne Estimated Through Measuring Below Factors:
Temperature
Reactivity
Velocity
Contaminants solubility
Flow of the components
We Offer Products Which Have Features Like:
Stainless steel frame
With Full documentation
Extremely corrosion resistant
Standard Options That We Provide
Separate column packing
PH monitoring
Network Area:
Our manufactured products are made up of finest quality of raw materials due to which it ensures durability in the product nature. There are mainly three factors in our designed products which are the main keys of our success and these are quality designs, competitive price and timely delivery.
We Have Cover Following Markets:
USA: Florida, Montana, New Jersey, Texas, South Dakota, New Mexico, Alaska Nevada, etc.
Middle East: Syria, Jordan, Kuwait, Israel, Oman, Saudi Arabia, Yemen, Egypt, Cyprus etc.
Europe: Poland, Austria, Monaco, Finland, Sweden, Croatia, Andorra, Malta, Italy, Albania, etc.
Others: Maldives, Myanmar, Nepal, Bangladesh, Bhutan, Pakistan, China, etc.
Indian Areas: Assam, Himachal Pradesh, Gujarat, Delhi, Mumbai, Orissa, Karnataka, Madhya Pradesh, Rajasthan, Punjab, West Bengal, Haryana, Bihar, Andhra Pradesh, etc.