Fractional Distillation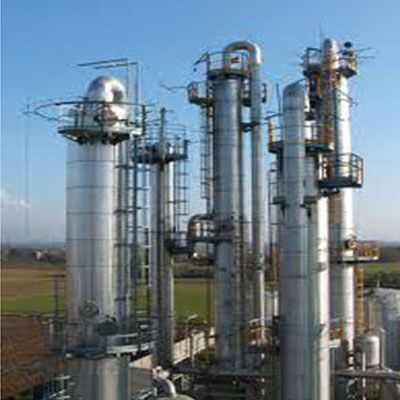 Fractional distillation is the method of separation in which product is taken to a specific boiling point where, one part is vaporized out by leaving the other. In this technique even the material comes after the distillation is not of such a desirable quality, hence re-distillation of such resultant is also needed. The procedure of fractional distillation system is very much similar to the basic technique of the distillation. Never try to boil the flask inside the system for drying as it may contain concentrated explosive peroxides. And stop the process when in the distillation flask, a little amount of liquid get left.

The whole process is same but at the end fractional distillation system requires some additional steps to achieve the desirable result. Sometimes many situations come when you have to cover the flask with cold ice or water during the operation of liquid which has very low boiling point. Rufouz Hitek Engineers Pvt. Ltd. construct premium grade fractional distillation column which is used in small laboratories to large scale industries.
Features Of Fractional Distillation:
Extra Tough
Adjustable Equipment
Multiple Functions
Wide Range
Solvent Recovery
Complete Range Of Products
Network Area:
Our manufactured products are made up of finest quality of raw materials due to which it ensures durability in the product nature. There are mainly three factors in our designed products which are the main keys of our success and these are quality designs, competitive price and timely delivery.
We Have Cover Following Markets:
USA: Florida, Montana, New Jersey, Texas, South Dakota, New Mexico, Alaska Nevada, etc.
Middle East: Syria, Jordan, Kuwait, Israel, Oman, Saudi Arabia, Yemen, Egypt, Cyprus etc.
Europe: Poland, Austria, Monaco, Finland, Sweden, Croatia, Andorra, Malta, Italy, Albania, etc.
Others: Maldives, Myanmar, Nepal, Bangladesh, Bhutan, Pakistan, China, etc.
Indian Areas: Assam, Himachal Pradesh, Gujarat, Delhi, Mumbai, Orissa, Karnataka, Madhya Pradesh, Rajasthan, Punjab, West Bengal, Haryana, Bihar, Andhra Pradesh, etc.