Extraction Equipment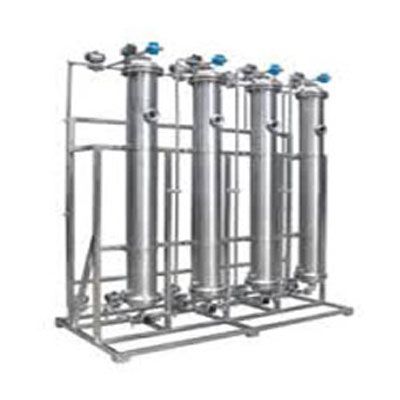 While designing an Extraction equipment, there are some important parameters that always be kept in mind. The main purpose of extraction equipment is to merge the two phases and preserve the droplets of the dispersed phase. Some important factors are mentioned below which must be there in mind during the designing of extraction equipment.
The very first thing is mixing which is usually determined by the properties of this phase like their viscosity, density difference and interfacial tension. It is very important the rate of mixing should be appropriate.


Settling is all depending on the characteristics of the fluid. In continuous column there is a separate space for the settling, it can also be installed inside the equipment or also available as the outer separate equipment.


The phase which has usually low viscosity is selected as the continuous phase and which has higher one is chosen for creating turbulence. In batch processing continuous phase is not available because the large liquid phase is acted itself as the continuous phase in such conditions.
Rufouz Hitek Engineers are reckoned in the prominent Liquid Extraction Equipment suppliers and serving in this industry through our client friendly approach. Our made products are well adjusted to any arrangement. They are designed in a user friendly manner, and can easily be used by skilled as well as semi skilled labor. They are manufactured with finest category of raw materials to deliver prominent quality of extraction equipments. We have proven our success rate at worldwide scale.
Applications Of Extraction Equipment:
Chemical engineering
Pharmaceuticals
Petroleum and oil industries
Lab research
We Deliver That Product Class Which Is:
Cost-effective
High tech
Variety of designs
Ensure safety
Easy installation
Stumpy maintenance
Tested products
Network Area:
Our manufactured products are made up of finest quality of raw materials due to which it ensures durability in the product nature. There are mainly three factors in our designed products which are the main keys of our success and these are quality designs, competitive price and timely delivery.
We Have Cover Following Markets:
USA: Florida, Montana, New Jersey, Texas, South Dakota, New Mexico, Alaska Nevada, etc.
Middle East: Syria, Jordan, Kuwait, Israel, Oman, Saudi Arabia, Yemen, Egypt, Cyprus etc.
Europe: Poland, Austria, Monaco, Finland, Sweden, Croatia, Andorra, Malta, Italy, Albania, etc.
Others: Maldives, Myanmar, Nepal, Bangladesh, Bhutan, Pakistan, China, etc.
Indian Areas: Assam, Himachal Pradesh, Gujarat, Delhi, Mumbai, Orissa, Karnataka, Madhya Pradesh, Rajasthan, Punjab, West Bengal, Haryana, Bihar, Andhra Pradesh, etc.