Steam Stripping Equipment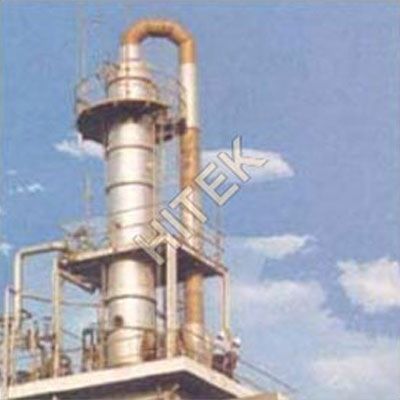 Steam Stripping Equipment is prepared depending on the properties of the organic material that has to be removed and also on the treatments of its disposal and recycling. For an economical operation heat recovery from the bottom product line is very much needed. In case of vacuum operations, towers should be larger. How much heat is required for generating steam is also an important factor in designing such range of equipments. While designing it should be kept in mind that the column should be proficient in handling large amount of steam flow. Steam stripping is also another name for the steam distillation process. It is a very common technique of mass transfer. Stripping is a method which is completely known for its quality of removing harmful materials from the waste streams. This is very much complementary to the original component as it is regulated according to the best conditions of that specific component

Rufouz Hitek Engineers are universally known as the foremost Steam stripping equipment manufacturers. In some past years we have developed ourselves in delivering the most suitable kind of products to our precious clients. Our company has the huge production capacity and that's the reason we are standing at the top among in all steam stripping equipment suppliers. Due to our wide range of products and their design, we have been able to make our client base from all small cities to the bigger ones. Our products match with the international market standards thus ensure greater efficiency in terms of performance and output. They are manufactured under the strict supervision of experienced engineers.
Advantages Of Steam Stripping Equipment :
Widely used
Durable
Quality tested
Economic range
Latest design
Network Area:
Our manufactured products are made up of finest quality of raw materials due to which it ensures durability in the product nature. There are mainly three factors in our designed products which are the main keys of our success and these are quality designs, competitive price and timely delivery.
We Have Cover Following Markets:
USA: Florida, Montana, New Jersey, Texas, South Dakota, New Mexico, Alaska Nevada, etc.
Middle East: Syria, Jordan, Kuwait, Israel, Oman, Saudi Arabia, Yemen, Egypt, Cyprus etc.
Europe: Poland, Austria, Monaco, Finland, Sweden, Croatia, Andorra, Malta, Italy, Albania, etc.
Others: Maldives, Myanmar, Nepal, Bangladesh, Bhutan, Pakistan, China, etc.
Indian Areas: Assam, Himachal Pradesh, Gujarat, Delhi, Mumbai, Orissa, Karnataka, Madhya Pradesh, Rajasthan, Punjab, West Bengal, Haryana, Bihar, Andhra Pradesh, etc.