Plug Flow Reactor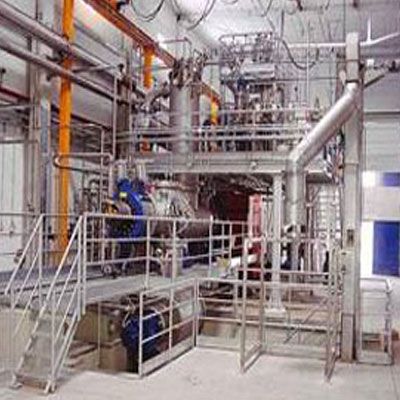 In the chemical industry whenever an exothermic or explosive reaction is needed to be carried out through the conventional way then in that case our manufactured Plug Flow Reactor is widely utilized. They also ensure the safety of the equipments beside the uniform heat transfer. Our manufactured compact reactor possesses all the characteristics of heat transfer, static mixing and reaction engineering. In this equipment the surfaces for heat transfer are positioned in a way so that mixing as well as the heat transfer turn out to be complementary to each other. The structure of heat transfer makes radial mixing doable. Next to all these functions it also helps in serving mixing or heating or cooling of high viscous fluids beside exothermic reactions. Our product designs are available in a wide range to meet demands of all types of industrial processes.
Some Unique Working Features Of Plug Flow Reactor:
Proper mixing in radial dimension
Isolated flow
There Is Some Assumption Like:
Balanced conditions
Plug flow
Constant density
A single reaction
There Are A List Of Some Main Characteristics Of Plug Flow Reactor:
Uniform distribution
Short residence time
Advanced technique
Smooth appearance
Quality design
Network Area:
Our manufactured products are made up of finest quality of raw materials due to which it ensures durability in the product nature. There are mainly three factors in our designed products which are the main keys of our success and these are quality designs, competitive price and timely delivery.
We Have Cover Following Markets:
USA: Florida, Montana, New Jersey, Texas, South Dakota, New Mexico, Alaska Nevada, etc.
Middle East: Syria, Jordan, Kuwait, Israel, Oman, Saudi Arabia, Yemen, Egypt, Cyprus etc.
Europe: Poland, Austria, Monaco, Finland, Sweden, Croatia, Andorra, Malta, Italy, Albania, etc.
Others: Maldives, Myanmar, Nepal, Bangladesh, Bhutan, Pakistan, China, etc.
Indian Areas: Assam, Himachal Pradesh, Gujarat, Delhi, Mumbai, Orissa, Karnataka, Madhya Pradesh, Rajasthan, Punjab, West Bengal, Haryana, Bihar, Andhra Pradesh, etc.