Solvent Stripper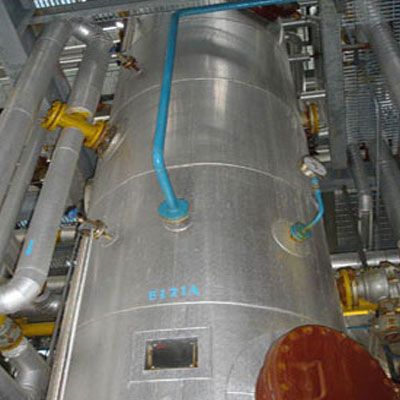 Rufouz Hitek Engineers are worldwide known for manufacturing solvent based strippers. Heat recovery is normally achieved through bottom product line to make the process economical. In the case of vacuum operations, the towers should be extra-large to support the process. While designing solvent strippers, the amount of needed heat should be kept in mind. The column should be designed in a way so that they can control the power of steam flow. It is one of the practices of mass transfer. Through this method, harmful materials can be easily removed from the waste streams.We are the top most suppliers of solvent stripper. We have developed our manufacturing plant and due to this today we are proficient in delivering the best quality of strippers with large production capacity. We are counted in top most manufacturers of stripping equipment. You will surely get the desiredoutcome as the entire process takes place under best controlled conditions. RufouzHitek Engineers are universally known as the foremost Steam stripping suppliers.
Advantages Of Solvent Stripper:
Widely used
Hard-wearing
Tested product
Economic range
Latest design
Network Area:
Our manufactured products are made up of finest quality of raw materials due to which it ensures durability in the product nature. There are mainly three factors in our designed products which are the main keys of our success and these are quality designs, competitive price and timely delivery.
We Have Cover Following Markets:
USA: Florida, Montana, New Jersey, Texas, South Dakota, New Mexico, Alaska Nevada, etc.
Middle East: Syria, Jordan, Kuwait, Israel, Oman, Saudi Arabia, Yemen, Egypt, Cyprus etc.
Europe: Poland, Austria, Monaco, Finland, Sweden, Croatia, Andorra, Malta, Italy, Albania, etc.
Others: Maldives, Myanmar, Nepal, Bangladesh, Bhutan, Pakistan, China, etc.
Indian Areas: Assam, Himachal Pradesh, Gujarat, Delhi, Mumbai, Orissa, Karnataka, Madhya Pradesh, Rajasthan, Punjab, West Bengal, Haryana, Bihar, Andhra Pradesh, etc.