Reactive Distillation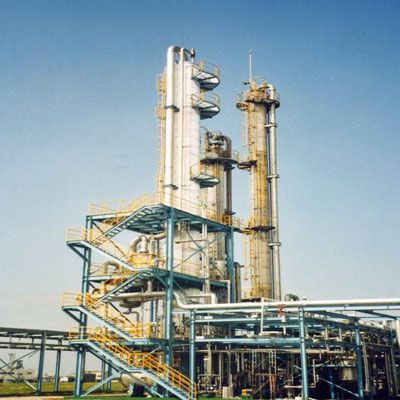 In the Reactive distillation process, separation procedure doesn't need separate set up. As a result it prevents the loss of extra energy in terms of heating. This method is best for the esterification and ester hydrolysis reactions. The conversion rate can be further increased through the regular removal of reactive products from the reaction zone. This process also ensures lower utilization of energy resources. The efficiency of this process depends on many parameters like volatility of reactant, feasible reaction rate and temperature of the distillation. In the reactive distillation process, the whole reactor remains in a still position. And the whole separation process has taken place in same process means there is no requirement of another step for carrying out severance process. We design an excellent range of reactive distillation columns which helps in making distillation process more efficient. We manufacture such reactive distillation system and control mechanism which facilitate in easy removal of reactive products which makes the conversion faster. It is regarded as a cost effective system and have used in multiple industries. This type of reactive distillation is broadly used in various types of chemistries, thus at Rufouz Hitek Engineers we try to build such reactive distillation column design which will be able to fulfill all the requirements of an engineer client.
Benefits Of Reactive Distillation:
High speed
Improved output results
With a reduced amount of waste
Easy handling
Cost effective
Network Area:
Our manufactured products are made up of finest quality of raw materials due to which it ensures durability in the product nature. There are mainly three factors in our designed products which are the main keys of our success and these are quality designs, competitive price and timely delivery.
We Have Cover Following Markets:
USA: Florida, Montana, New Jersey, Texas, South Dakota, New Mexico, Alaska Nevada, etc.
Middle East: Syria, Jordan, Kuwait, Israel, Oman, Saudi Arabia, Yemen, Egypt, Cyprus etc.
Europe: Poland, Austria, Monaco, Finland, Sweden, Croatia, Andorra, Malta, Italy, Albania, etc.
Others: Maldives, Myanmar, Nepal, Bangladesh, Bhutan, Pakistan, China, etc.
Indian Areas: Assam, Himachal Pradesh, Gujarat, Delhi, Mumbai, Orissa, Karnataka, Madhya Pradesh, Rajasthan, Punjab, West Bengal, Haryana, Bihar, Andhra Pradesh, etc.