Stripping Column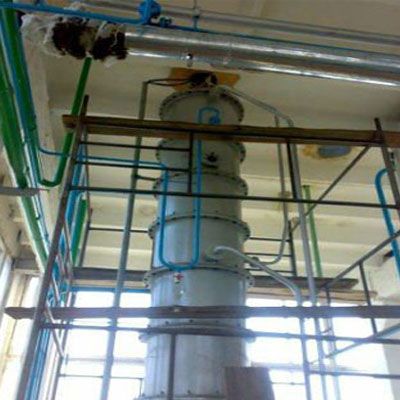 Steam stripping is the process of concentrating the dilute mixtures of the organic compounds in the water. It is highly preferred in those cases where heavy compound is water and light compound is the mixture of organics having volatile nature. For best working of stripping column, uniform distribution of the present form is essential. The effectiveness of stripping columns completely depends on the properties of the materials that has to be removed and also in terms of its disposal and recycle. For the past 30 years, our manufactured stripping column designs have been serving in various industries and are appreciated for its efficiency. We have a deep understanding of working of these columns thus we can assure you about its all features. Rufouz Hitek Engineers Pvt. Ltd. makes the best quality of gas stripping columnto meet the needs of our all clients. We operate in all major cities in India as well as in foreign. Our designs are innovative and able to meet your all business related goals. Some basic principles are there which are needed in designing stripping column:
Uniformity In Pressure Drop
Regular Temperature Change
Energy Requirements
Movement Of Fluids
Extent Of The Separation Process
Timely Phase Contacts
Resistance Rate
Our Manufactured Stripping Columns Are:
Having Better Secured Parts
Excellent Designs
Low Pressure Constraint
Resistant To Corrosion
Defiant Against High Temperature
Network Area:
Our manufactured products are made up of finest quality of raw materials due to which it ensures durability in the product nature. There are mainly three factors in our designed products which are the main keys of our success and these are quality designs, competitive price and timely delivery.
We Have Cover Following Markets:
USA: Florida, Montana, New Jersey, Texas, South Dakota, New Mexico, Alaska Nevada, etc.
Middle East: Syria, Jordan, Kuwait, Israel, Oman, Saudi Arabia, Yemen, Egypt, Cyprus etc.
Europe: Poland, Austria, Monaco, Finland, Sweden, Croatia, Andorra, Malta, Italy, Albania, etc.
Others: Maldives, Myanmar, Nepal, Bangladesh, Bhutan, Pakistan, China, etc.
Indian Areas: Assam, Himachal Pradesh, Gujarat, Delhi, Mumbai, Orissa, Karnataka, Madhya Pradesh, Rajasthan, Punjab, West Bengal, Haryana, Bihar, Andhra Pradesh, etc.