Distillation Column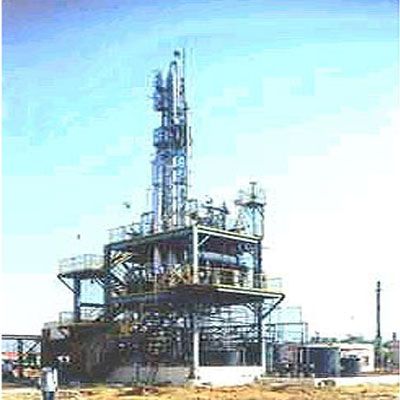 Rufouz Hitek Engineers manufacture a numerous number of Solvent Distillation System for the leading companies of our country as well as for those which are situated in abroad. It is the best alternative for disposal of solvents. It helps in reducing the usage of solvent and well suitable for processing of waste solvents which are contaminated but to a smaller level. The distillation units in the system heat the solution to its boiling point, the formed vapors are then collected in a separate apparatus and the left out content is disposed of. Some of the basic parts of solvent distillation are reboiler, associated piping, an condenser and instrumentation. The solvent distillation process is majorly used for treating waste solvents that are not polluted in excess quantity. This type of method ensures the safety of the workers as hazardous materials can easily be traced out easily. Our created solvent distillation equipment is valued by major industries. All the way through the use of knowledge in science and engineering, we enable us to turn out to be major solvent distillation equipment manufacturers. We have built new high technical devices with a fully automated system that helps in getting the most efficient process of distillation through recycling harmful solvents. We have all sizes of range to satisfy the needs of all customers by providing them best customized solutions.
Our Products Offer Better:
Rapid analysis
A simple course of action
Less investment
Saves time
Environment friendly
Network Area:
Our manufactured products are made up of finest quality of raw materials due to which it ensures durability in the product nature. There are mainly three factors in our designed products which are the main keys of our success and these are quality designs, competitive price and timely delivery.
We Have Cover Following Markets:
USA: Florida, Montana, New Jersey, Texas, South Dakota, New Mexico, Alaska Nevada, etc.
Middle East: Syria, Jordan, Kuwait, Israel, Oman, Saudi Arabia, Yemen, Egypt, Cyprus etc.
Europe: Poland, Austria, Monaco, Finland, Sweden, Croatia, Andorra, Malta, Italy, Albania, etc.
Others: Maldives, Myanmar, Nepal, Bangladesh, Bhutan, Pakistan, China, etc.
Indian Areas: Assam, Himachal Pradesh, Gujarat, Delhi, Mumbai, Orissa, Karnataka, Madhya Pradesh, Rajasthan, Punjab, West Bengal, Haryana, Bihar, Andhra Pradesh, etc.