Microwave Heating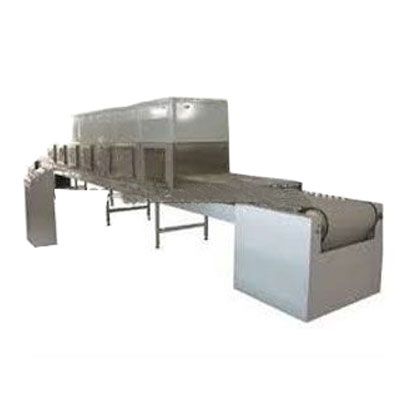 It is the latest design system with the most modern technology. Microwave heating principle works on the phenomenon of electromagnetic spectrum. The microwave heating mechanism works on a process in which photons of any specific energy level turn excite the rotational level of molecules. And the materials begin to react as a high energy electric field. The main advantage of such type of heating is that it gives immediate heating effect and the uniformity in the whole process as a consequence it is much better than the traditional medium of heating. Generally microwave is that section of the electromagnetic spectrum where millimeter and radio waves are placed. For prevention from any types of leakage wall of the apparatus should be strong. For getting more advantages from the microwave heating, shorter time and uniformity in heating is essential. It is a technique from which most of the people are aware of. They work according to the requirements of the product. A microwave heating equipment converts the electrical energy into the heat energy. They are typically advertised as the most energy efficient source of converting electrical energy into the heat power. We have developed a series of good microwave heating equipment which are used in huge varieties of industries. Rufouz Hitek Engineers Pvt. Ltd. supply our products only after uniform testing and critical stages of trials.
Best Features Of Microwave Heating:
Adjusted oscillation waves
Uniform heating
Large applications
Quick start up
Consistent heat transfer
Designer surface
Network Area:
Our manufactured products are made up of finest quality of raw materials due to which it ensures durability in the product nature. There are mainly three factors in our designed products which are the main keys of our success and these are quality designs, competitive price and timely delivery.
We Have Cover Following Markets:
USA: Florida, Montana, New Jersey, Texas, South Dakota, New Mexico, Alaska Nevada, etc.
Middle East: Syria, Jordan, Kuwait, Israel, Oman, Saudi Arabia, Yemen, Egypt, Cyprus etc.
Europe: Poland, Austria, Monaco, Finland, Sweden, Croatia, Andorra, Malta, Italy, Albania, etc.
Others: Maldives, Myanmar, Nepal, Bangladesh, Bhutan, Pakistan, China, etc.
Indian Areas: Assam, Himachal Pradesh, Gujarat, Delhi, Mumbai, Orissa, Karnataka, Madhya Pradesh, Rajasthan, Punjab, West Bengal, Haryana, Bihar, Andhra Pradesh, etc.